CopenLabs CARE C11
The CARE software is a program specially developed for a complete and professional analysis, it has a friendly design that makes it fast and efficient for any task that you want to develop, it's intend for any therapist with basic computer knowledge to advanced users without any problems.
The main features included are:
Thousand of Rates Available (+22,000 Rates)
Fast Process and Automatization (Time Saving Feature)
Analysis Customization – Different Types of Analysis (under/over function)
Color Therapy
Create your own categories and sub-categories
Process of adding new Rates or Frequencies based on Claims or Decrees
Encode / Decode new Remedies with EECS card feature
Patient's and Remedies Management System
Direct Treatment Feature
Potentised Remedies Feature
Distance Healing or Broadcasting Feature
Compensated Rate or Complementary Rate
Homeopathic Formulas Included
The CARE C11 software has the ability of running on any instrument of the CopenLabs Family instruments. That includes: CARE ND, MK12P, MK12/SMA, MK7, MK2, MK4, ASLD90, ASLD95 or even the old CopenLabs instruments with our upgrading software process, that enables old ones to work with the USB connectivity function.
The software is classified by 6 main modules:
Patients
Diagnostics
Remedies
Categories
Color Therapy
Broadcasting
Patients Module
The software allows you to manage your client portfolio professionally and securely, it has a great capacity to store all patient data, also lets you add images or/and multiple photos, information on diseases, data on its evolution as a clinical record, different addresses, etc.
It has a strong database that allows you to create backups in case you need it in another computer or wants to share it with a fellow colleague.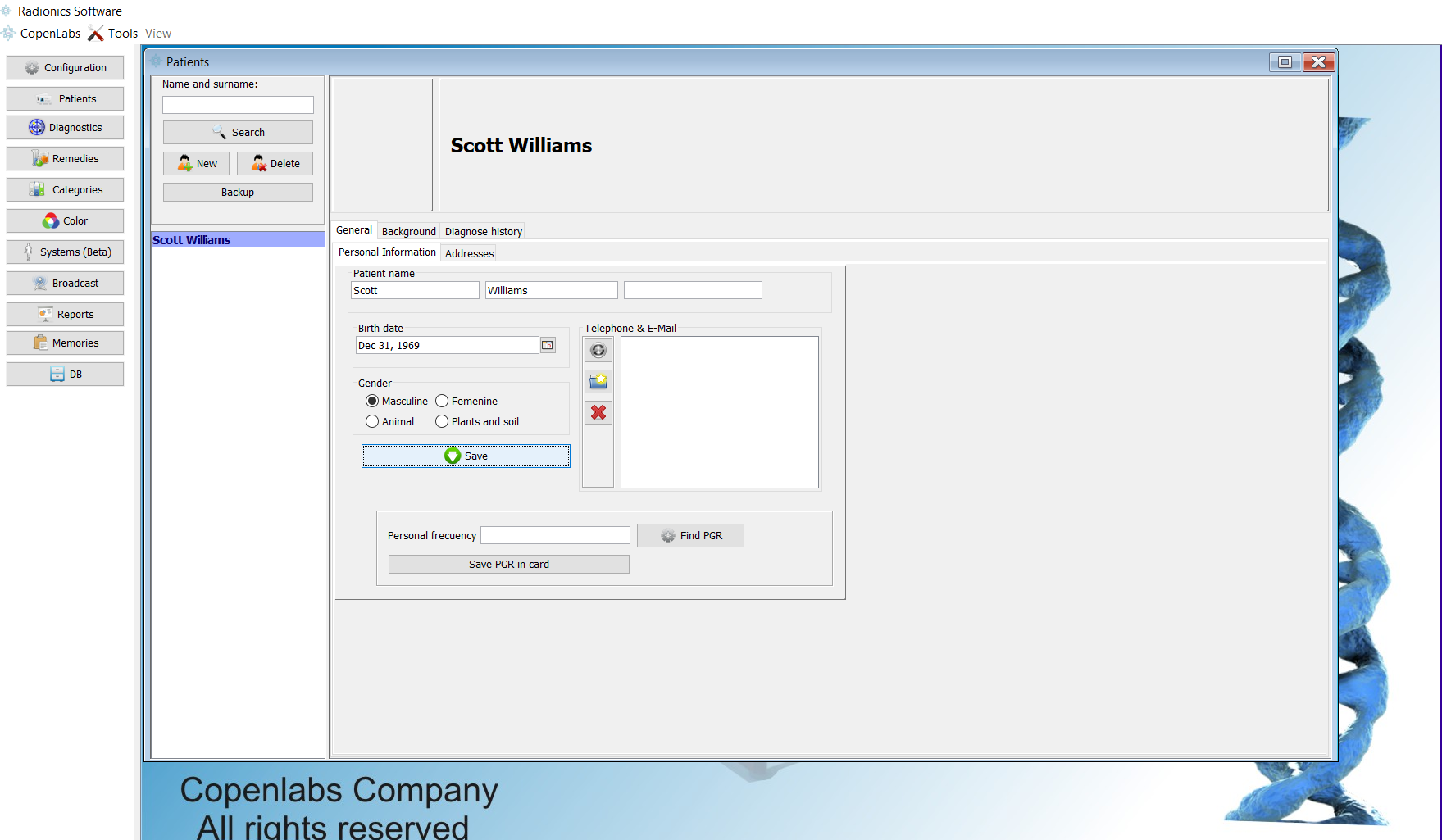 Diagnostics Module
With the CARE software you can perform a complete and quick analysis, you can generate different types of analysis without fear of losing them because all the processes that you make in the CARE are stored, and can be use for creating remedies.
You can perform analysis on 12 different levels: Physical, Emotional, Spiritual 1, Spiritual 2, Spiritual 3, Spiritual 4, etc. In addition, the system offers the option to make an automatic level analysis, it also suggests you what other levels may be related thanks to its "Suggested Levels Function".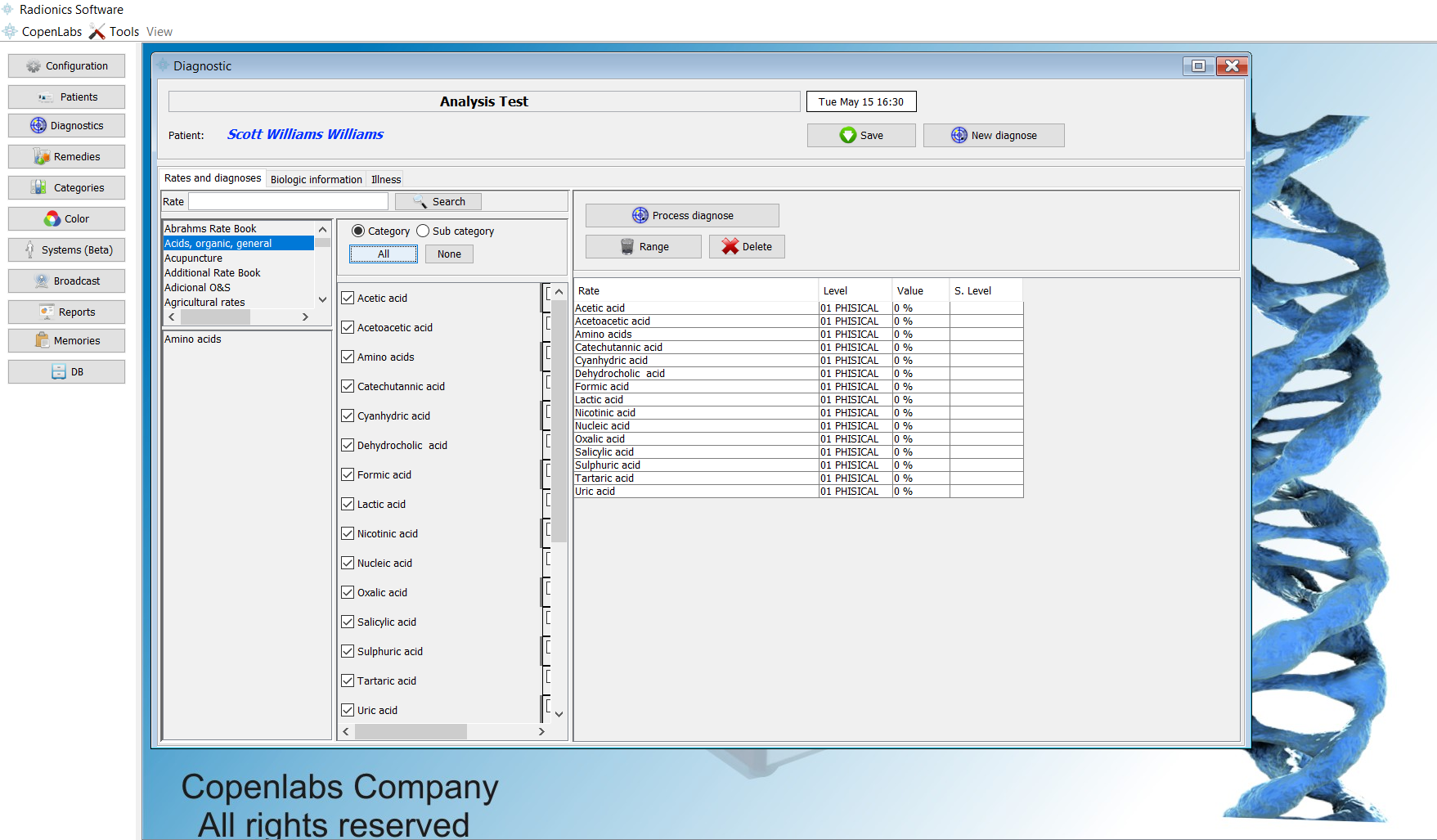 Remedies Module
With the sofyware you are able to create simple and complex remedies, combine different remedies, analysis, and even color therapies into a single remedy, store it in the database and a variety of possibilities.
It's also possible to potentiate these remedies and formulas from traditional methods such as X, C, M, LM, and MM.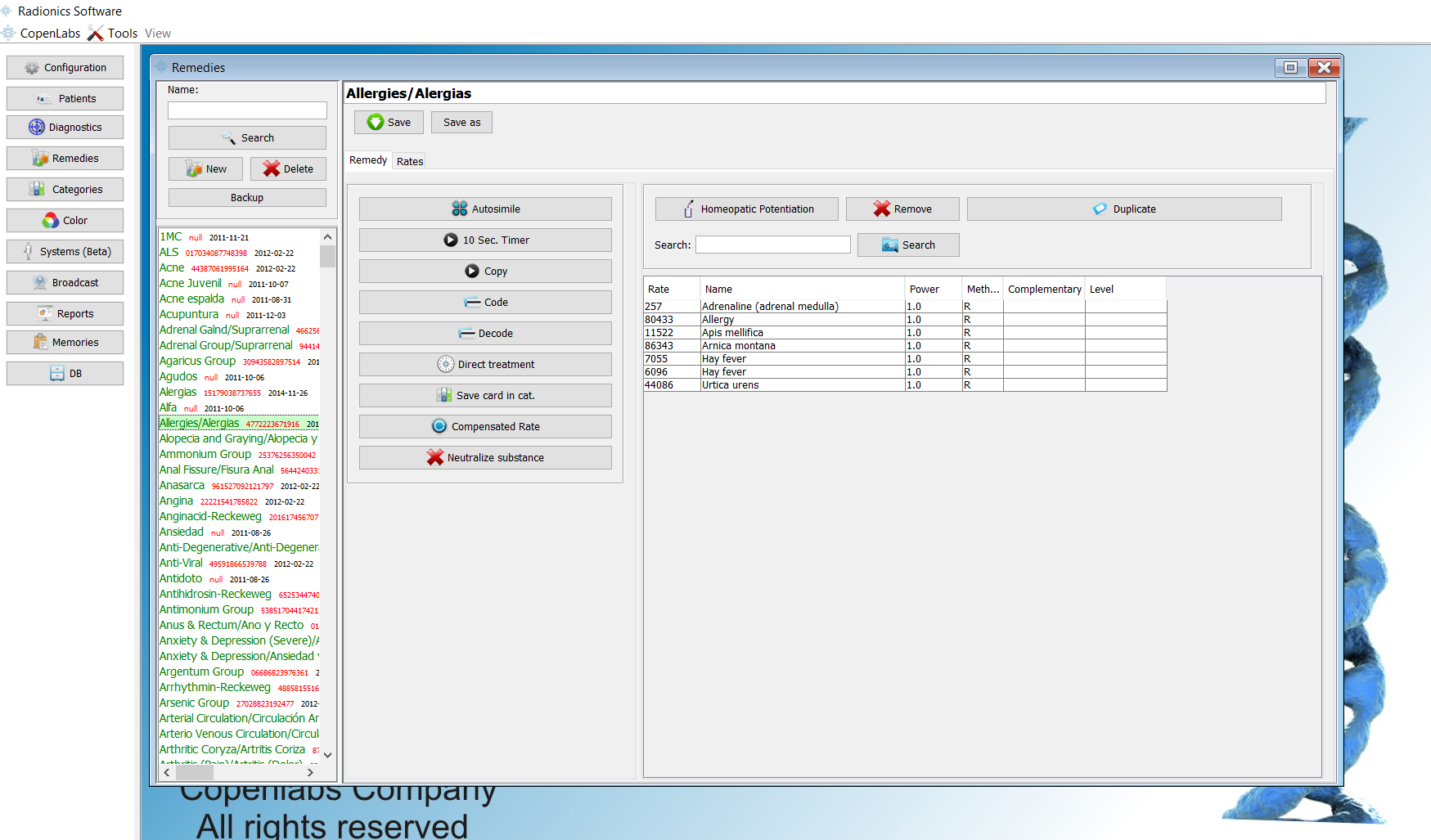 Categories
Our software allows you to add new categories, subcategories and even add new rates, also allow you to manage and organize them as you wish. Also, counts with Quick Search feature included. You can create new rates from claims, text and even get rates of existing drugs or formulas.
Some examples of categories included are:
Organs
Virus
Bacteria
Fungi
Diseases and Symptoms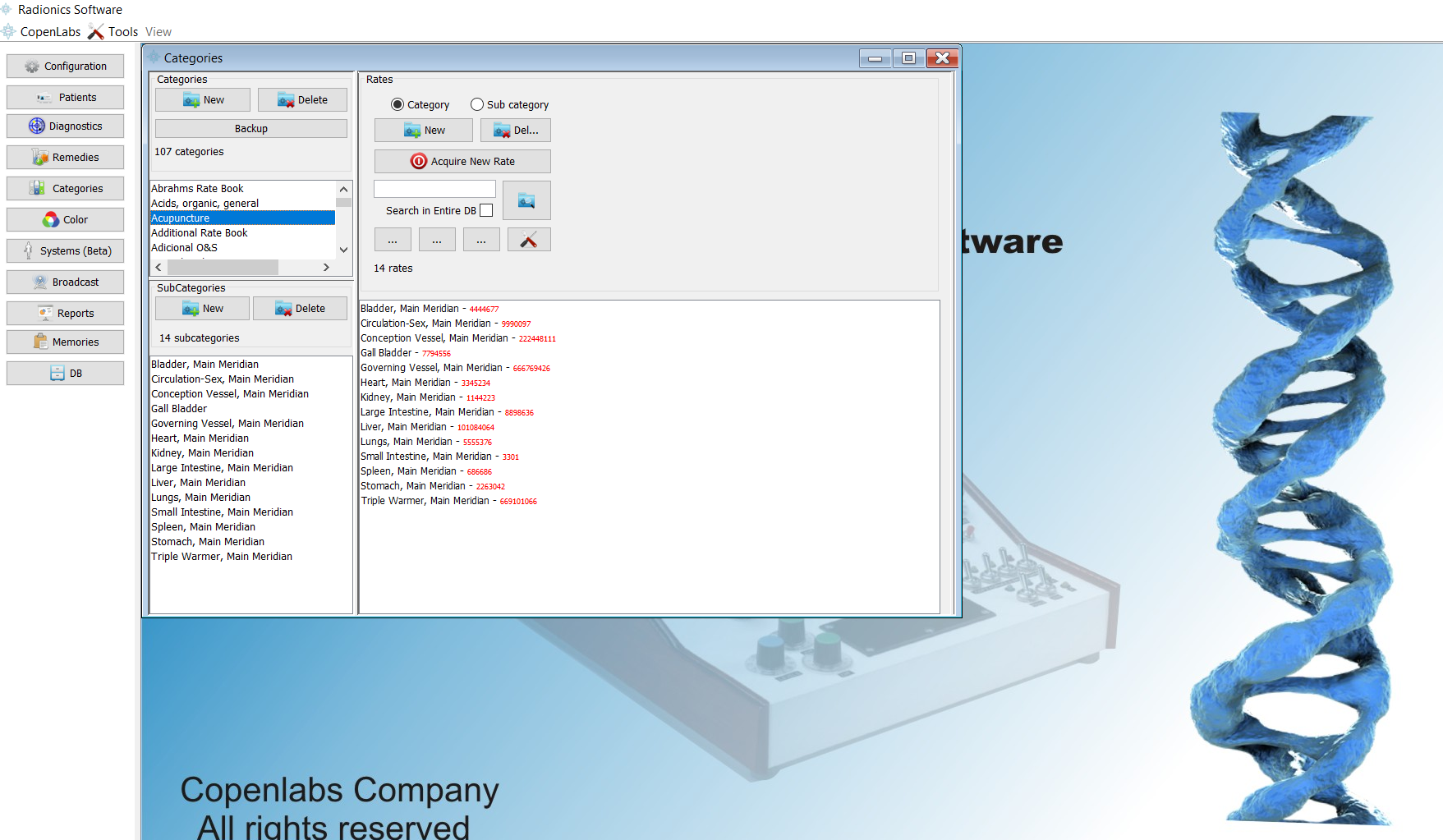 Color Therapy Module
The color therapy is an option where you have the chance to transmit color rates to a specific points of the Human Body. Color Therapy is a tool that promotes harmonization and natural/self-healing. This is because each color has an own vibration, amplitude, and wavelength different and unique.
These rates have an influence that enables your body to achieve self-healing or harmonize their remedies.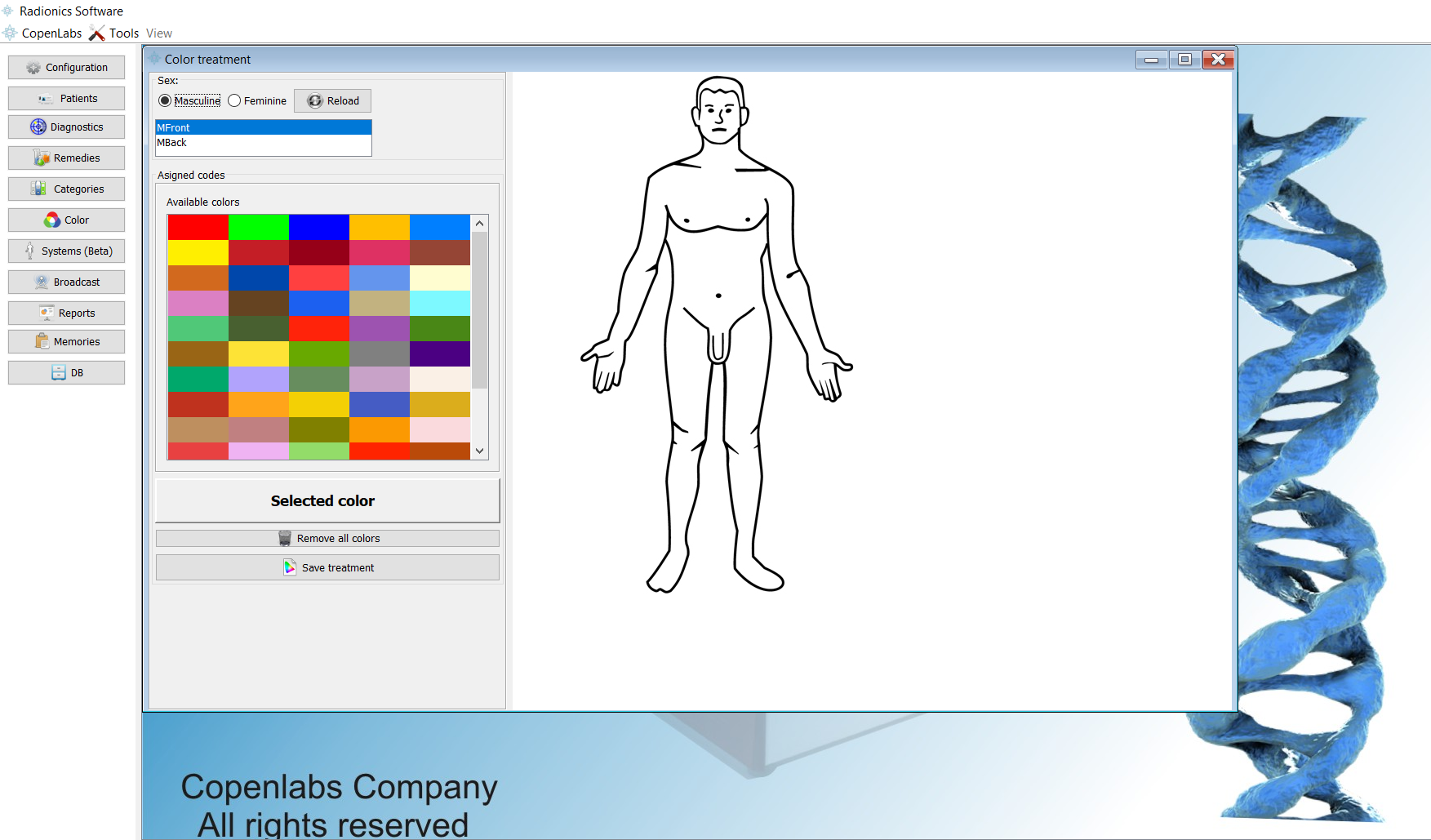 Broadcasting Module
With our system, you are able to provide broadcast treatment, that is, from your computer/instrument you can transmit the rates of a therapy to his patient wherever he/she is located.
The treatment is based on physical principles, these principles tell us that "each and every one of the elements that form a single body is involved, and creating the energy field (electromagnetic) of the same.
This field is maintained regardless of whether any of these items are separated from the system because there is a structural link between energy and memory.
If this sample is kept unchanged, the patient's biological sample, the link is stable, so, if the sample is treated, the patient's electromagnetic field (body) is also treated.
You will have the possibility to schedule therapy time or even tell the system whether to provide treatment to the patient, indicate the duration of therapy, the frequency and for how many days have to treat the patient; the system carries out all tasks automatically.
Not just a patient, you can broadcast to multiple patients simultaneously and even schedule therapies per day duration, or repetition as needed.
Feel free to send us an email to info@copenlabs.com regarding your doubts, questions or comments at all.